My Recent Work New!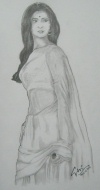 Saree


Posted on Sep 28, 2008

My Art Blog New!
Bhuvan's Art Blog New!

"Art is long, Life is short."

Drawing/Painting is a passion in my life. More than just a hobby or interest, it is the devotion, inspiration and love of Art that made me to self-learn and try to master it. I never got a chance to display my Art works to public anywhere. Now, I am proud to display most of my Art Works to the whole world in my own Art Gallery on the Internet.

It is unbelievable but is a fact to say that I can still recollect the moments of each of my hundreds of works displayed here. I can even say those are the best moments of my life- time very well spent.

I strongly believe in that "Art is God's gift in one's life" and one should continue doing that.

All my Drawings/Paintings have been categorized based on the material used - Water Color, Ball Point Pen, Indian Ink, Ink, Pencil, Sketches and Oil Paintings. The eighth gallery contains the drawings I did during my first stage of those self leaning days and the ninth gallery is a special gallery that contains some of the sculptures that I started studying at The Art Institute of Chicago, Chicago.

There is also a special Gallery dedicated to my Father in which I displayed some of master pieces from his hand.

Every category has one or more galleries and every gallery has FOUR drawings/paintings displayed in it.

Total paintings/drawings displayed : 139

So, take a tour and enjoy my Art Gallery!